Best Bedding Manufacturers In Pakistan
Best Bedding Manufacturers In Pakistan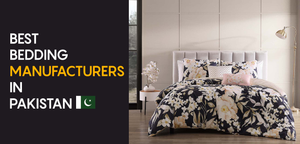 When it comes to creating a comfortable and peaceful space within our homes, bedding is one thing we should take very seriously. A good night's sleep depends not only on the mattress but also on the quality of bedding, including sheets, pillowcases, duvets, and more. In Pakistan, a country known for its rich textile industry, Latest Bedding Pvt. Ltd. stands out as one of the best bedding manufacturers located in Faisalabad, Pakistan's textile hub. Latest Bedding has earned a reputation for producing top-notch bedding products that combine comfort, durability, and style. In this article, we will discuss the company's journey, its commitment to quality, and why it deserves recognition as one of the best bedding manufacturers in Pakistan.
About Latest Bedding
In the ever-evolving world of textiles, Latest Bedding Pvt. Ltd. stands as a beacon of excellence in Pakistan's textile industry which other bedding industries follow. This bedding company was established with a vision to deliver the utmost in bedding solutions and has also emerged as a trusted name, not only in local markets but on the global stage as well. Latest Bedding Pvt is Located in the heart of Faisalabad at The Grand Atrium on West Canal Road, as the state-of-the-art factory showcases an impressive blend of advanced machinery and a skilled workforce, which together create a range of high-quality bedding products that redefine comfort and style.

At Latest Bedding, quality is non-negotiable as the company's commitment to excellence can be seen in every aspect of its operations. Our manufacturing process is powered by the latest technology, ensuring that each product is crafted with precision and care. From bed linens to duvet covers, the extensive range of bedding solutions offered by Latest Bedding meets the highest standards of quality and durability. Customers can rest easy, knowing they're investing in products that stand the test of time. At LatestBedding, we pride ourselves on staying ahead of trends and pushing the boundaries of traditional bedding aesthetics as our design team carefully curates a collection that ranges from timeless classics to contemporary designs, allowing customers to find the perfect fit for their personal style. This commitment to innovation ensures that Latest Bedding's products not only provide comfort but also elevate the aesthetic of any bedroom.

LatestBedding's reach extends far beyond Pakistan's borders. The international presence is a testament to the quality and appeal of our products. With an extensive network of distributors and retailers, we have made our mark in various international markets. The global recognition we've gained is a reflection of our commitment to providing top-notch bedding solutions to customers around the world.

What We Offer at Latest Bedding Pvt as the Best Bedding Manufacturer in Pakistan
Quality Control is Our Top Priority

One of the key factors that set Latest Bedding apart is the unwavering commitment to quality control. Before any fabric is used for stitching, it undergoes rigorous testing to ensure it meets the company's high standards. This meticulous attention to quality is evident in every product we offer. Latest Bedding understands that comfort and durability are paramount when it comes to bedding as we source the finest raw materials, including cotton, linen, and microfiber, to create products that are not only soft to the touch but also built to last. By focusing on quality, we have earned the trust of many customers which led them to patronize us again for their bedding needs.

Product Range

Latest Bedding offers a wide range of bedding products to cater to diverse preferences and needs. Whether you prefer classic, elegant designs or modern, vibrant patterns, Latest Bedding has something to suit your taste. Some of our popular products include:

Bed Sheets: The latest Bedding's bed sheets are the cornerstone of the bedding collection as they are available in various sizes and thread counts, ensuring a perfect fit for any mattress, be it a twin, queen, or king. Thread count is a critical factor in determining the quality of bed sheets, and we ensure that our sheets are crafted with the utmost precision. The higher the thread count, the softer and more durable the fabric. With these sheets, you can expect nothing less than a comfortable night's sleep. Say goodbye to restless tossing and turning caused by scratchy, uncomfortable sheets.

Pillowcases: Pillowcases are more than just functional; they are an integral part of your bedroom's decor. Latest Bedding's pillowcases not only protect your pillows but also elevate the aesthetics of your sleeping space. These pillowcases are designed for easy maintenance, and we offer a variety of designs to complement any bedroom decor. From minimalistic solid colors to intricate patterns, you'll find the perfect match for your style. With these pillowcases, you can effortlessly transform your bedroom into a haven of relaxation and style.

Duvet Covers: Duvet covers play a dual role in your bedding ensemble as they are made to protect your duvet insert from dirt and stains while adding a touch of sophistication to your decor. Latest Bedding's duvet covers excel in both aspects. They come in an array of colors and designs to choose from, allowing you to change the look of your bed with ease. Whether you prefer a classic, timeless design or something more contemporary, you'll find a duvet cover that speaks to your sense of style. Plus, the protection they provide ensures that your duvet insert remains pristine for years to come.

Comforters: When the weather turns chilly, a warm and fluffy comforter is essential for a cozy night's sleep. Latest Bedding offers an extensive range of comforters, available in different fill weights to provide customized warmth. Whether you prefer a lightweight option for a summer breeze or a thicker one to keep you snug on the coldest winter nights, you'll find the perfect comforter to match your needs. These comforters are designed for maximum fluffiness and comfort, providing you with the ultimate cocoon of warmth and relaxation.

Bed-in-a-Bag Sets: For those who are seeking a comprehensive bedding makeover, Latest Bedding has got you covered. We offer bed-in-a-bag sets that include sheets, pillowcases, duvet covers, and shams. With these all-in-one sets, you can effortlessly revamp your entire bedding ensemble without the hassle of coordinating individual pieces. These sets are not only convenient but also cost-effective, making them an excellent choice for anyone looking to transform their bedroom into a stylish and comfortable retreat.

Sustainability Initiatives

In today's world, sustainability has become a paramount concern for consumers, and companies that embrace eco-conscious practices are gaining prominence. Latest Bedding is one such company that understands the pressing need for environmental responsibility. We have undertaken significant steps to reduce the environmental impact and align with the values of modern consumers. Latest Bedding is steadfastly committed to responsible sourcing of materials and ethical manufacturing practices. We prioritize eco-friendly production processes and waste reduction as integral parts of our business model. By using sustainable materials and implementing innovative, low-impact techniques in our production, Latest Bedding is contributing to a greener, more sustainable future. Importantly, this commitment to sustainability does not compromise the quality of our products, ensuring that customers can sleep soundly in both comfort and conscience.

Customer-Centric Approach

What truly sets Latest Bedding apart is the ability to satisfy its customers with the exact products they need. Recognizing that every customer is unique, with distinct preferences and needs, this bedding company goes above and beyond to provide a personalized shopping experience. Whether you're on the hunt for the perfect bedding set or have questions regarding care instructions, our customer support team is readily available to assist you every step of the way. This commitment to excellence in customer service is what has propelled Latest Bedding to the forefront of the industry. Our approach extends beyond just selling products; it's about creating lasting relationships with our clients. When you shop with Latest Bedding, you're not just buying quality linens; you're entering into a partnership with a company that values your unique needs and strives to exceed your expectations.

International Presence

LatestBedding extends its presence beyond Pakistan, the headquarters office is located in New Jersey. We proudly serve customers throughout the United States, offering a diverse range of home decor items such as sheets, comforter sets, window treatments, pillow shams, and many more. Our exceptional bedding products, known for their quality, have earned acclaim on an international scale, being shipped to different places in both the USA and Pakistan. This worldwide reach is a testament to the trust and confidence that global customers bestow upon our products. Whether you reside in Pakistan or you are living in the USA, Latest Bedding ensures that you can experience both comfort and style, no matter where you are.

Competitive Pricing

Latest Bedding is a brand that seamlessly blends quality and affordability, making it a prime choice for a wide range of customers. Our commitment to delivering top-notch products at competitive prices sets us apart in the world of bedding. What truly distinguishes Latest Bedding is the understanding of the importance of affordability. While our products exude luxury, the pricing remains budget-friendly. This unique combination of quality and affordability has made Latest Bedding a favored destination for shoppers. Whether you're on a tight budget or seeking lavish bedding, Latest Bedding ensures you get value for your money. Our commitment to customer satisfaction through quality and affordability is the driving force behind our popularity in the bedding market.

Testimonials from Satisfied Customers
Customer feedback is often the best way to gauge the quality and reliability of a company's products and services. Here are some testimonials from satisfied customers who have experienced the excellence of Latest Bedding:

Sarah: "I've been buying bedding from Latest Bedding for years, and I'm always impressed with the quality. Their sheets are incredibly soft, and their duvet covers add a touch of elegance to my bedroom."

Ahmed: "As a hotel owner, I need bedding that can withstand frequent washing and still look and feel great. Latest Bedding's products have exceeded my expectations in terms of durability and comfort."

Lisa: "I'm an environmentally conscious shopper, and I was pleased to learn that Latest Bedding is committed to sustainability. Their eco-friendly practices, along with their beautiful designs, make them my go-to choice for bedding."

Michael: "I recently purchased a bed-in-a-bag set from Latest Bedding, and their products meet my expectations. It transformed my bedroom, and the quality of the materials is exceptional, especially considering the price."

In conclusion, Latest Bedding Pvt. Ltd. has earned its place among the best bedding manufacturers in Pakistan through its unwavering commitment to quality, wide product range, sustainability initiatives, and customer-centric approach. Our dedication to excellence, coupled with competitive pricing, has made us a trusted name in both local and international markets. Whether you're looking for bedding that provides comfort, style, or sustainability, Latest Bedding has you covered. With a growing number of satisfied customers, Latest Bedding continues to set the standard for quality bedding in Pakistan and beyond. Don't hesitate to get your new bedding materials from us.

Happy Bedding!!!